In the modern world, there are hundreds of thousands of projects that differ in duration, origin, success, cost, implementation time, and application areas. Each of them is unique in its own way, but they all follow a common path from the emergence of an idea to its realization in a finished product. Of course, there are many projects that, for various reasons, have faced failure, but our story is not about that. We have worked enthusiastically, invested a lot of effort, and spent a considerable amount of time to successfully develop our idea. No matter how you look at it, we live in an era of technology and the internet, where everything that is created is accessible from anywhere in the world. Let's talk about IT projects and their hosting on reliable, high-performance, and quality servers. This category includes online stores, enterprise software, restaurants, informational websites, audio and video libraries, unified environments for company employees, trading software for exchanges, mobile applications, and more.
How to choose a quality and reliable server?
Let's consider an online store. Suppose you have a cool idea for creating your own online store to sell a product or service, and you want to bring it to life. Most projects have a limited budget at the start of their implementation, and the finished product may look vague and imprecise. You decided to save money and rented a virtual server with decent specifications at an average rental cost. Let's say it's the "Mega" plan with 3 cores, 8 GB of RAM, and a 100 GB disk for 15.13 euros/month. You set up the store, added products with descriptions, ordered advertisements, and the resource became popular. The number of customers and orders is growing, new categories and products are added, and the complexity and size of the database are increasing. Eventually, you realize that the server resources are no longer sufficient, response times are increasing, and there are delays in displaying products. You need a more powerful server. As your business is growing, and the profit allows you to rent something more robust and powerful, I recommend considering a dedicated server. Its configuration will provide a good response speed and resource capacity for a long time.
A dedicated server stands out from a virtual one due to its high performance, absence of limitations related to resource sharing among other users, enhanced security, and the ability to fine-tune it for your specific task. You could say it's your personal server with a full range of capabilities, located in a reliable data center in Europe. Pretty cool, right? There are numerous configurations available, as shown in the figure below.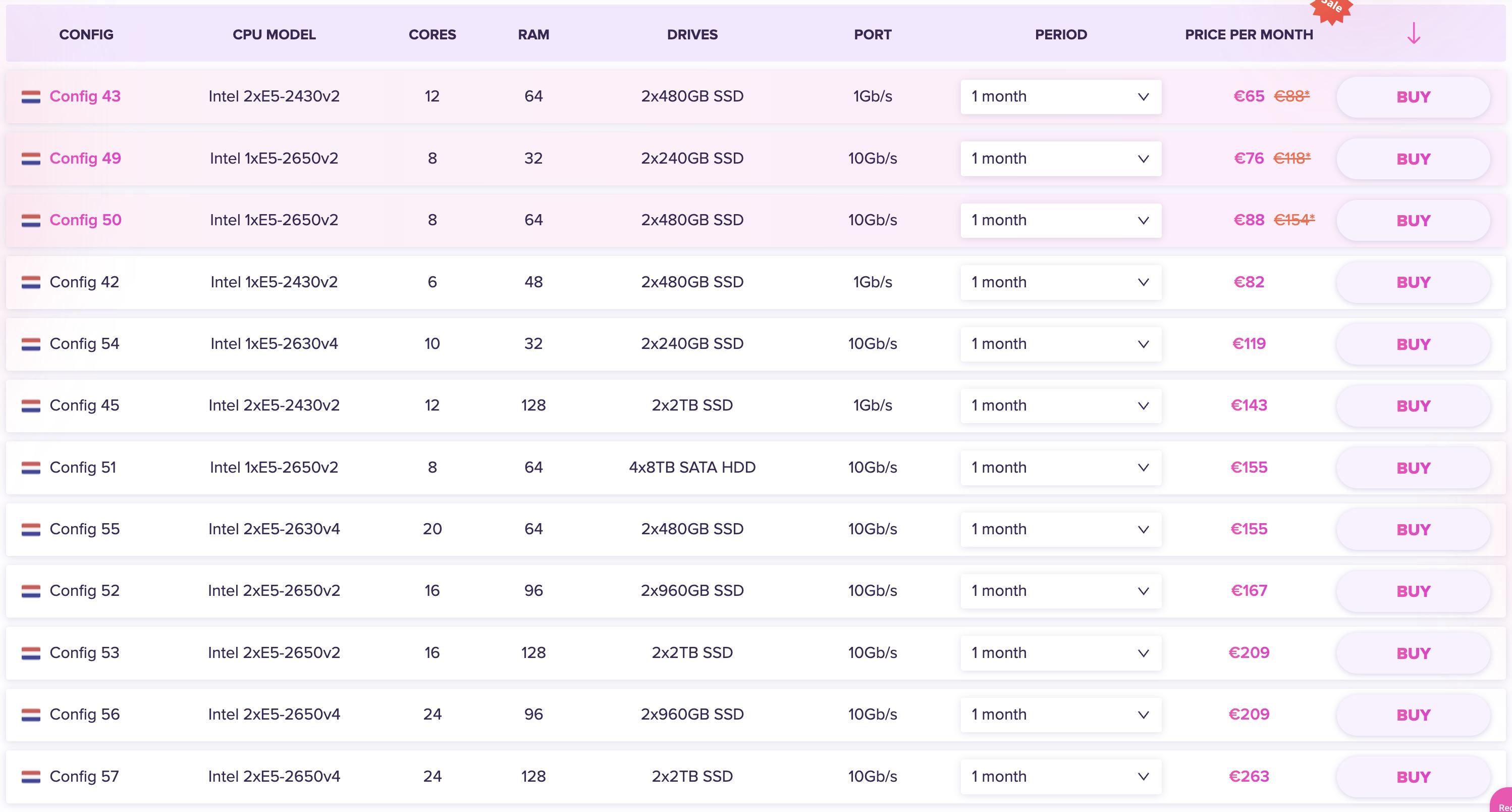 As we can see, there's a special offer for the "Config 43" configuration. The dedicated server of this configuration is equipped with two Intel E5-2430v2 processors with 6 cores each, 64 GB of RAM, two 480 GB SSDs that can be configured in RAID, which is more suitable for your tasks, and a 1 Gbps port for fast data exchange. Additionally, you'll receive priority 24/7 technical support, 99.9% uptime, and the ability to install your own OS or software for the most efficient resource utilization directly from the server control panel, access to which will be provided in the activation email. The server will be ready for use on average within a day but no later than 5 days. And all of this is available for just 65 euros/month. Moreover, if you're a new customer and it's your first server order, you'll receive an additional 10% discount for the first month of rental. When compared to competitors offering similar quality and service levels, BlueHost and Hostwinds have significantly higher prices. Screenshots with specifications and monthly rental costs are provided below.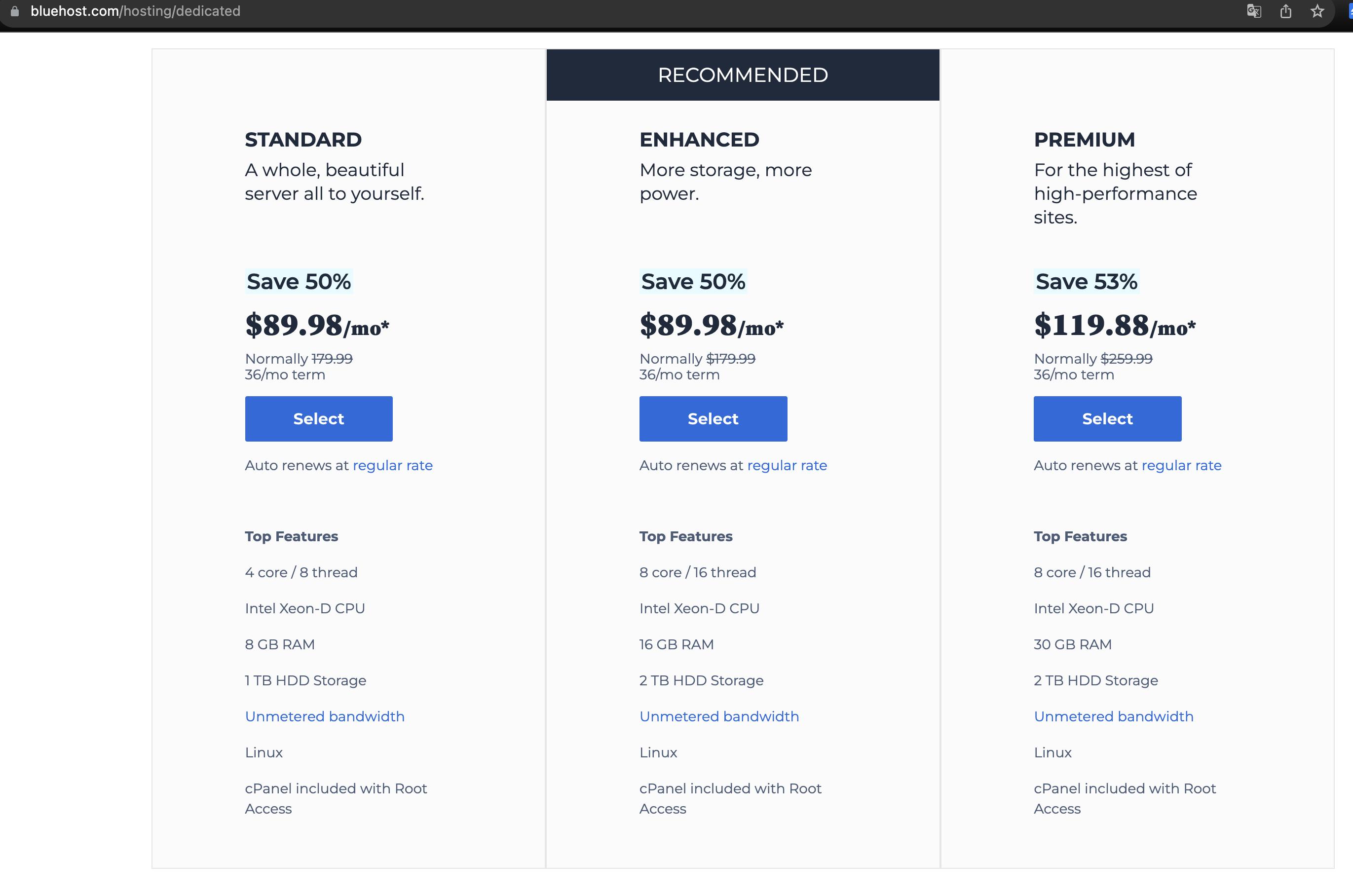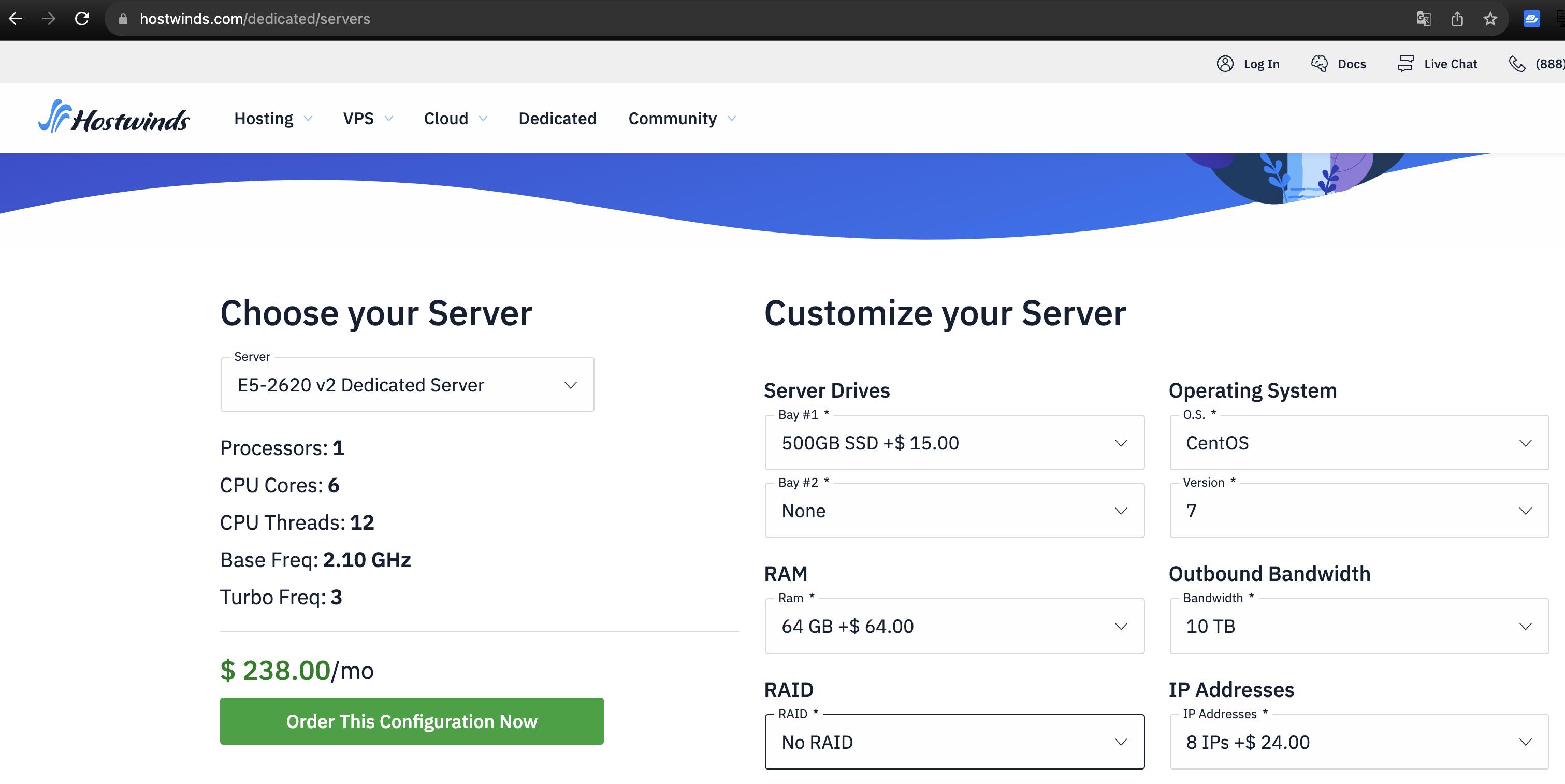 From the images, it's evident that even configurations with simpler specifications will not only lag behind in performance but also in rental costs. The same situation applies to other hosting providers. The most affordable and quality dedicated server is offered by Zomro. For your selected online store, at this stage of development, it will more than suffice to ensure a fast server response to a large number of requests. With 64 GB of RAM, you'll be able to set up caching effectively, which in turn will speed up the delivery of requested pages to the client's browser.